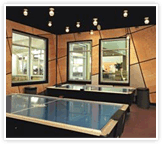 Having fun at work is an important element in maintaining morale and boosting productivity. Sterile, dull and play free working environments are likely to lead to increased staff turnover, because staff like to interact at work. In today's competitive hiring market, it's become more important than ever for companies to enhance job satisfaction and ensure that workers enjoy being on the job. Incorporating a little workplace fun can go a long way to improve employee morale. It isn't very difficult or expensive to make the workplace more fun, and you will certainly see the results if you or your company make the effort to liven up the daily work routine. It can be as simple as a foosball table in the lunch room or a board room table that converts into a billiard table.
Here are some tips for setting up a workplace game room:
Dedicate a Space
One of the biggest problems with staff engaging in non work activities is that they can disturb other employees around them who are trying to work. Organizations need to designate zones where staff can gather without it impacting upon other employees. Consider creating a games room that can be equipped with pool tables, entertainment systems, sofas and an ample supply of refreshments. By doing this staff will quickly associate their desk with work and are likely to be more respectful of those around them.
Designate Play Time
A good employer will quickly realize the positive effect play has on staff morale and will seek to designate specific periods in the working day for this activity. Overworked staff are likely to try and take time out to have fun anyway but formalizing it in this way reduces the potential for staff to waste further work time. The time that employees are least productive is immediately after lunch and scheduling thirty minutes non work time is a clever way of allowing staff to relax together without effecting productivity.
Organize Activities
Consider organizing formal activities during staff breaks which employees can participate in. Pool competitions, table tennis matches or foosball tournaments can all help staff let off steam. Exercise increases the heart rate which in turn boosts concentration levels and these organized activities can have a real positive effect on productivity and encourage team building among staff. Better still; why not ask staff to volunteer to run these activities so that they take ownership of them.
A workplace play initiative can help a company to:
attract and keep employees
improve teamwork
inspire creativity
reduce the effects of a stressful workplace
reduce health costs
improve morale by creating a happy, supportive environment
Contact F.G. Bradley's commercial division to help you plan a corporate game room.
Or fill out the following contact form: