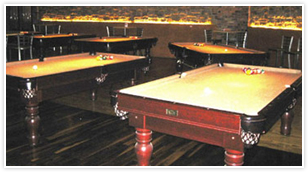 Safari Bar and Grill - Ajax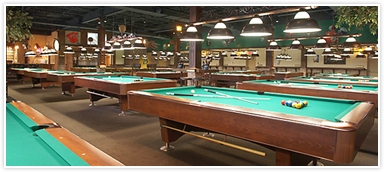 At F.G. Bradley's, we offer a wide range of services and quality equipment to help you run your existing pool room or recreation facility. We also have years of experience with design and equipment for new ventures. We are proud to offer you a wide selection of billiard equipment, billiard accessories and game tables for your commercial establishment. Call or drop into any of our three locations and ask to speak to your Commercial Billiards Representative. Each outlet has an expert on hand to help you with your every need.
Contact our Commercial Division directly by calling 416-494-0094 or Toll Free 1-800-829-4981 or emailing commercialsales@fgbradleys.com
If you are planning a new billiard club or addition here are some great tips to get you started:
From Concept to Grand Opening…
At F.G. Bradley's, we are ready to help with your new venture. Whether you are looking to open a contemporary upscale club or a traditional style club – we have the billiard table styles, accessories and expertise to help you. When you have your proposed location, F.G. Bradley's can provide help with demographics of your proposed market area, budgets, floor plans, layouts and grand opening.
Contact the experts at F.G. Bradley's to service all your billiard needs.
Billiard Club Space Specifications…
Proper planning will help in finding a suitable and profitable location.
Consider these points:
Tables should be at least 60" from any wall to the inside playing surface.
A minimum of 4' between each table.
Table lamps should be hung approximately 36" above the playing surface of each table.
Allotment of space for other areas should be taken into account at this time such as:
Pro Shop
Kitchen
Bar area
Eating area
Washrooms
Office and storage space
AREA REQUIRED FOR BILLIARD TABLES
| | | | |
| --- | --- | --- | --- |
| Table Size | Playing Surface | Outside Dimensions | Approximate Sq.Ft. Required |
| 4′ X 8′ | 44″ X 88″ | 54″ X 98″ | 255 sq. ft./table |
| 4-1/2′ X 9′ | 50″ X 100″ | 60″ X 110″ | 271 sq. ft./table |
| 5′ X 10′ | 56″ X 112″ | 66″ X 122″ | 295 sq. ft./table |
| 6′ X 12′ | 70″ X 140″ | 80″ X 150″ | 355 sq. ft./table |