Predators passion has been to be the brand of choice for serious pool players. Predator cues and shafts are used by more than 60% of the top-ranking male pros, three out of five top women professionals and over 200,000 competitive players worldwide. None of these players are paid to play with Predator products – their only reward is better performance.  Even beginning and intermediate players will attest to how Predator takes their play to an entirely new level. In fact in an independent survey of Predator owners, more than 90% said playing with Predator improved their game.

It all starts with innovation. For more than 10 years, Predator has led the billiard industry in a technological revolution that has changed the face of the game.  Behind every stronger break and straighter shot is painstaking research, countless designs and nonstop testing.  It's a scientific approach that delivers unparalleled accuracy, enhanced consistency and unsurpassed power.
CUE BALL DEFLECTION & ACCURACY
The vast majority of all shots are missed because of cue ball deflection.  That's why, in 1992, Predator began an intensive study to understand the dynamics of the pool cue.  The backbone of this research was a robot, Iron Willie.  Iron Willie enabled them to objectively test and accurately measure pool cue performance while keeping all variables constant.  Today, Predator continues their dedication to research through a partnership with the Engineering Department of the University of North Florida.  By furthering their understanding of the transfer of energy from cue to cue ball, they've been able to develop revolutionary technologies that offer dramatic improvements in cue performance, including:


IMPROVED ACCURACY
MORE SPIN
EXCEPTIONALLY SOLID FEEL
UNEQUALED CONSISTENCY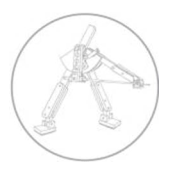 PREDATOR'S KEY TECHNOLOGIES
THE SCIENCE BEHIND IMPROVING YOUR GAME.
SECOND GENERATION FRONT-END
New front-end technology and the shorter ferrule go the distance to improve performance.

10-PIECE SHAFT
Eliminates grain directionality and produces a consistency of flex and straightness unequalled by any shaft. 

The combination of our unique four-piece coring system and use of phenolic parts gives a more solid feel and enhances cue longevity. 

PREDATOR 2 - 10-PIECE BUTT
Behind Predator's stainless steel butt cap is a system designed to reduce vibrations and enhance feel.

SNEAKY PETES - TRADITIONAL FULL SPLICE
Provides far superior strength, clean aesthetic lines and a pure transfer of feedback to your hand.

BK2 - BREAKTHROUGH TIP TECHNOLOGY
Delivers speed and power with incredible accuracy.  It will instantly increase the power you transfer to the rack.

AIR - THE TIP TAKES YOU HIGHER
Three-piece construction and advanced front-end technology deliver pinpoint accuracy, while phenolic and carbon fiber plate provides a higher, faster, more powerful shot.

A cue is only as solid as its joint

Discover the softer-than-leather, moisture-absorption wrap that lets you bring luxury and confidence to the table every time.

The Straight Facts:

When you use English or sidespin, cue ball deflection causes your cue ball to miss the target you're aiming at. Players at all levels need time to learn how to compensate for this.  But thanks to Predator, even beginners can move through the process more quickly and see an immediate improvement in their game.  Predator technology reduces the error factor and makes it easier to pocket balls using English. You don't need to adjust the way you do with other cues. Just aim and fire.
See for yourself how the Predator second-generation shafts reduce cue ball deflection dramatically more than conventional shafts. Predator shafts provide increased accuracy over conventional shafts and help you pocket more balls.

A stiff shaft sounds like a good thing, but a heavier, stiffer shaft actually pushes through the cue ball, causing it to deflect away from your target.

The front end of a Predator shaft is significantly lighter and more flexible than a standard shaft, allowing the cue ball to push the shaft aside rather than the shaft pushing the ball out of line. The result? Straighter shots every time.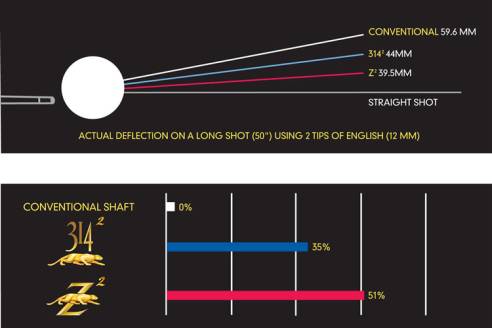 GET YOUR PIECE OF THE ACTION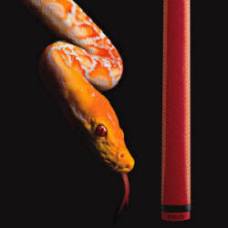 Predator's second generation of shafts go beyond reducing cue ball deflection.  Their unique splicing eliminates grain directionality and produces a consistency of flex and straightness that is unequaled by any traditional one-piece shaft.  In fact, players who use a Predator 10-piece shaft experience 22% more consistency in their shots. It's no wonder so many professionals have made the switch to Predator technology. 
TAKE YOUR GAME TO THE NEXT LEVEL

The second generation of Predator's notorious 314 shaft is one for the ages.  With re-engineered front-end for even greater accuracy, the enhanced technology of the 314² will bring you one step closer to the ultimate playing experience.  You'll enjoy better performance, feel and durability thanks to an improved tip, shorter ferrule and new joint system.
THE BEST TIP YOU'LL EVER GET.
Predator offers the latest innovations in front-end technology as standard equipment on all second-generation shafts.  Just how important is the bore to your overall performance?  Let's just say it's the primary source for reducing cue ball deflection.  That's why Predator has combined the patented front-end bore with a multi-layered Everest tip and the shorter MaxLite ferrule to create a shaft that will put you ahead of the competition. 
When you experience patent-pending C4 technology in Predator's Blak and 5K series cues, you'll find out what the world's best pool players already know.  If you want to make straighter, more accurate shots and take your game to the next level, C4 is a game changer you can't ignore.  Four expertly crafted wedges fit snugly together, slipped into a sleeve of exotic wood and reinforced with phenolic.  From the sturdy feel you notice the second you get your hands on it, to the satisfying "thunk" when you make contact with the cue ball, everything about a C4 cue says this revolutionary technology is here to stay.

The four pieces that make up the core of C4 fit snugly together like perfect pie slices.  This eliminates the need for the treaded weight bolt that joins the forearm and handle of a typical cue, giving the cue a more solid feel that you'll notice the second you pick it up.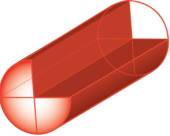 At the heart of the 5K and Blak is Predator's proprietary four-piece core.  Count on C4 technology to enhance the feel, stability, straightness and beauty of every shot you make!

No matter how much they obsess over advanced technology, at Predator, beauty never takes a back seat.  Our four-piece cores are slipped into some of the most beautifully inlayed, exotic wood sleeves we've ever made – from the intricate detailing for the 5K series, to the sleek black and white designs of the Blak.

The Uni-Loc pin is encased in a phenolic case, one of the most stable materials in the art of cue-making, providing you lifetime concentricity and eliminating wood movement.  So you can say good-bye to negative buzz and say hello to straight shots and greater accuracy.

Joints aren't the only things that get better with phenolic.  Predator replaced wood with this sturdy, synthetic material wherever possible to drastically reduce instances of warping, raised rings and cracking to make sure these cues hold up for the long haul.  Which is good, because once you get hooked on a C4 cue, you'll never want to let it go.
PREDATOR 2 - 10-PIECE BUTT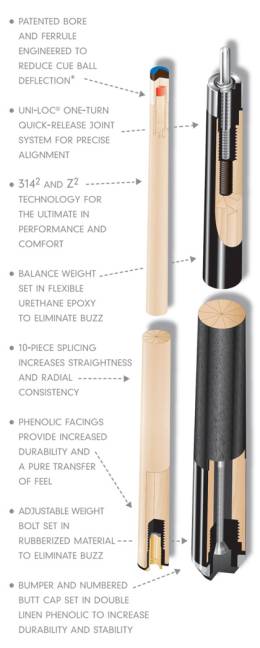 Not just another pretty face.
For the ultimate in beauty and performance, look no further than the Predator 2. Experts have called the P2 "the finest cue ever made" and with good reason.  It's specially engineered to transmit the feel generated in the front of the shaft to the hand without distortion from unwanted vibrations.  How do we they it?  With an unprecedented 10-piece splicing in both the butt and the shaft, and phenolic parts instead of wood to increase durability, stability and a pure transfer of feel. The P2 will keep your game looking good from every angle.
SNEAKY PETES – TRADITIONAL FULL SPLICE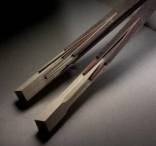 Think of it as your secret weapon.
From the very first time you get your hands on one, you'll know why Predator Sneaky Petes can't hide their brilliant designs.  Made with a traditional full splice of South American Rosewood and white maple, this cue is accented by either the red eight point or classic four point trim.  The SPs are constructed with the Uni-Loc quick-release joint system, a Rambow style cream butt cap and your choice of the 314² or Z² shaft. The result is greater accuracy, unrivaled consistency and an enhanced performance that will catch your competition completely off guard.
Unlike most cues on the market today, the Predator Sneaky Petes are built using a traditional full-splice construction.  A full-splice cue is made of only two pieces of wood jointed together without pins or other hardware.  The clear advantage is its ability to provide not only far superior strength and clean aesthetic lines, but most importantly a pure traditional feedback – or feel – to your hand.
IMPROVED JOINT CONSTRUCTION
In the pursuit of transferring better feedback to your hand, Predator has also re-engineered the joints for the SPs.  All pins and inserts are now set into phenolic to eliminate the wood movement around the joint created by changes in humidity.  This approach increases joint strength and also provides better surface-to-surface contact than wood, thus enhancing the cue's feedback.
BK2 – Breakthrough Tip Technology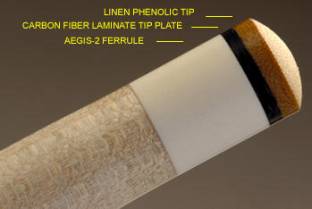 Engineered for explosive performance, the new Predator BK2 delivers speed and power with incredible accuracy.  No matter how you break now, the technological innovations in the BK2 will instantly increase the power you transfer to the rack – helping your first shot make a lasting impression.
How do they do it? With a proprietary tip technology that facilitates maximum energy transfer.  A more forgiving pivot point that allows longer strokes for more speed.  And cutting-edge shaft technology for straighter, stronger breaks.  The BK2 can mean the difference between taking control and taking a seat.
ACCURACY + SPEED = POWER
It all adds up to BK2.
Designed for maximum energy transfer and speed, Predator's proprietary three-part BK2 tip technology is another significant advancement that gives you increased power.  Predator's research and development discovered that the combination of a phenolic tip and a carbon fiber tip plate generates the fastest speed, helping you break with more power.  And with the BK2, you don't even have to adjust your break to generate better results.  How's that for a great tip?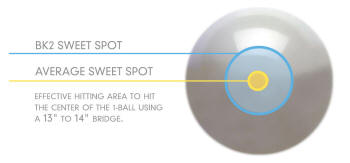 A cue's pivot point is the optimal position on the shaft where you need to bridge.  The BK2 pivot point has been tuned between 13″ and 14″ to maximize both acceleration and forgiveness at the same time.  With a pivot point 2″ longer than its next competitor, the result is greater speed, increased accuracy and a more powerful break.
AIR – THE TIP THAT TAKES YOU HIGHER
Thanks to advanced front-end technology and the unparalleled flexibility of its extra handle, Predator's first ever jump cue has the height to dazzle and the accuracy to destroy.  And when you're wielding it, so do you!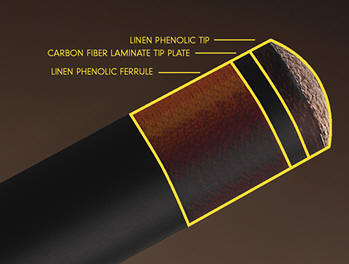 PUT SOME SERIOUS JUMP IN YOUR GAME
It's the first-ever jump cue by Predator.  So naturally, it's the most accurate jump cue ever made – thanks to advanced front-end technology that also gives you more height than any other jump cue on the market.  And with the unparalleled flexibility of three-piece construction, any shot, long or short, is not just another step – or another leap – on the road to victory.
You want to jump higher? You need to transfer more energy to the cue ball.  And Predator's figured out how to do it better than anyone else.  A typical jump cue has a phenolic tip for hardness and durability, but we took it one step further by combining phenolic with a carbon fiber cap.  The extra power generated by Air's tip requires less effort to jump and allows you to jump a wider range of distances. 
Unlike heavier cues, Air's ultra-light front-end construction gets your cue out of the cue ball's way FAST – meaning your ball gets into the air quicker and jumps higher.
The flexibility of three-piece construction makes Air your go-to jump cue, no matter how far the ball needs to travel.  And to get the ball airborne faster, we've designed Air with medium to low friction grip areas on the two- and three-piece parts – so the cue bounces back into your hand as soon as you make the shot, clearing a path for the cue ball's destruction.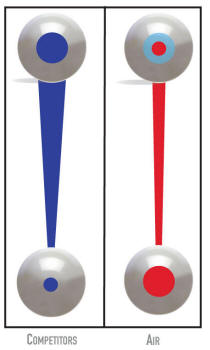 Dazzling height means nothing without devastating accuracy. And while Air's front-end technology and three-piece construction is a big part of its superior accuracy, here's another secret: Air also has a much larger sweet spot than its competitors.  Your can see it for yourself above, represented by that tiny red speck.  And that big blue dot shows you the not-so-sweet spot of your average jump cue.  The difference is clear, and as the cue ball gets closer to your target, Air's advantage only increases.

IT'S WHAT IT ALL HINGES ON
A cue is only as solid as its joint. That's why Predator is proud to joint with Uni-Loc to co-design new technologies that keep us at the top of our game.  By partnering with Uni-Loc, we're able to offer players a system so good, you don't even know it's there.

The revolutionary Uni-Loc joint provides the only one-turn quick-release on the market for the most precise alignment.  It even pulls the shaft to the butt with 360 degrees of equal pressure.  With the engineering prowess of Uni-Loc behind every Predator cue, it's no wonder that we have the hottest pool joint in town.