Why Buy a Poison Pool Cue?
POISON POOL CUES. A LETHAL SHOT.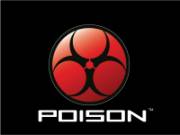 Belly-up to the table with a handful of Poison and you'll see all the wannabes back off.  This is a line of implements unlike any other, with bleeding-edge designs that challenge the eye and best-in-class playability that can make even the best shooter all the more deadly.  But be warned: Poison is a substance that causes damage, illness and death to any organism.  And Poison Cues? They cause damage to your opponent's game by means of distraction, technical muscle and sheer, unadulterated envy.
Every potent Poison in the line is topped-off with a 29″, Pro-Taper shaft that incorporates Double Density (DD) Technology.  The Double-D method enhances accuracy and maintains optimum stiffness by designing each shaft with two different densities of wood.  This little secret is your all-access pass to best-in-class playability, and the other player's toxic ticket to the Losers Circle. Poison's DD Technology benefits from Predator engineering.

ANTHRAX. THERE IS NO TOUGHER DIAGNOSIS
Just because you play fair doesn't mean you can't play dirty. Anthrax is designed for players who want their technology built-to-bruise.  Metal bolts. Tough, tire-tread grip.  Attitude by the yard and playability from every angle.  When you wield this stick your opponents will feel defeated before the first break is even made.  And like all real power, the power of Anthrax is addictive: an infection of body and mind that you won't want to cure. Ever.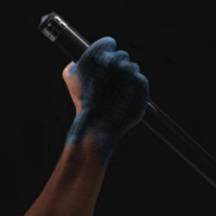 CYANIDE. DANGER HAS A DRESS CODE
The last time this much sophistication met with this much assassin-quality performance, it was speaking with a British accent and holding a martini.  Shaken, not stirred.  Cyanide cues are clean, crisp and cunning, approaching the game with precision and confidence.  Technology that bristles; playability that dominates. The other side of the table will stare nervously at the pearlescent, contrasting colors as you grip those HD rubber wrap stripes to deliver the bad news: You've got Cyanide.  The sleekest License to Kill ever issued.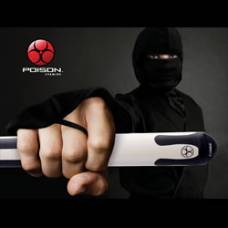 Those who forget that pool is a sport never played the game.  Just take hold of that hi-tec GTX polyurethane grip.  Feel the different levels of traction and tackiness at your disposal, the soft grab and shock absorption.  The VX takes high style to a highly dangerous level, with a sportster attitude, an athletic playability and all the mercy of a numchuck.  Enormously flexible in both battle and transport, the VX line features a three-piece Break/Jump cue and a two-piece playing cue. So whether you're breaking, jumping or catching a cab, this Poison has your back.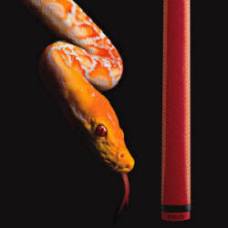 ARSENIC. BACK-IN-THE-DAY WITH A TOXIC TWIST.
For Old Skool style with state-of-the-art game, take Arsenic.  Fell the cool of that barstool-chrome butt cap in your hand.  Fell the round, smooth edges and the classic heft of brown woods enhanced with curving inlays; feel the soft touch and subtle, deeply playable control of that Genuine Leather wrap.  Retro?  Just a little.  But don't forget those traditionally-inspired good looks hide a wealth of technology.  So at the end of the game, this is the kind of "retro" that will have your opponents missing the good old days: the days before you added Arsenic to your game plan, that is.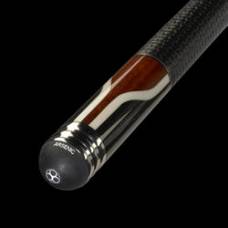 STRYCHNINE. ELEGANCE THAT TAKES NO PRISONERS.
Fatal attraction. Sporty and fast, but telegraphing a degree of class that commands respect and delivering the whiplash performance that earns it. Strychnine, like so many other creatures feared for their venom, flashes an unmistakable orange and black warning to everyone in the vicinity. Born of the very latest technology and bread for the very slickest playability, this one's for aggressively classy players only (and those who want to be).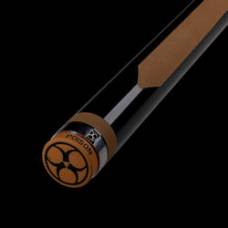 Sarin™, the why-didn't-anyone-think-of-this-before tip.
The Poison Venom™ shaft is crowned with the exclusive Sarin™ tip. With a .6" ferrule, the Sarin is composed of eight distinct layers, so when the first five blue layers are worn down, the bottom three red layers become exposed, telling you it's time to replace your tip.

WARPAGE – FINISH: Wood will soak up moisture in wet climates and release moisture in dry climates. To prevent warpage or finish problems, your cue should be stored under consistent temperature and moisture conditions.
ABUSE: Cues made of wood are not designed to withstand lateral pressure. Situations where a cue is leaning against a wall, dropped on the floor, bent while playing or hitting a table can damage the cue. We recommend protecting your cue with a hard case.

SHAFT MAINTENANCE: To clean your shaft, use a towel slightly dampened with rubbing alcohol. To avoid damaging your shaft do not sand it, no abrasive is necessary. Use a leather burnisher or similar material to seal the shaft after cleaning. Do not expose the shaft to excessive moisture and do not steam it to remove dings.

FERRULE: Much of the shaft's performance can be attributed to our ferrule design and composition. Due to the performance enhancing material used for the ferrule, scratches may appear with use. In this case, we recommend sending your shaft to us or to an Authorized Repair Center for a clean up. Do not remove or change the ferrule or the warranty will be voided.

TIP: If tip replacement is needed, we recommend a tip that is medium-hard, we are currently using Sarin®. For best results, we recommend that you send it to us or have an Authorized Repair Center do it on a lathe.
WRAP CLEANING: Use a very lightly damp towel to wipe off your wrap and dry immediately (do not use any solvents). Isopropyl alcohol will work to clean all Poison wraps.
To protect your investment, Poison Products offers a limited lifetime warranty against manufacturing defects. If you ever experience a problem that you believe is covered under warranty, please call Poison's customer service department at 1-888-314-4111 or +1-904-448-8748 for international callers. Please note that this warranty does not cover problems resulting from warping or abuse.
1. Terms and Conditions. Poison Products warrants solely to the original purchaser of this Poison product that the product purchased shall be free from defects in materials and workmanship under normal use for as long as the product is owned by the original purchaser, or until the ownership of the product is transferred to another. This Limited Warranty does not apply to asserted defects resulting from:
(a) normal wear and tear;
(b) modification, misuse, abuse or improper maintenance or
(c) accidents or exposure to extremes of temperature or humidity which cause harm.
This Limited Warranty applies only to those products purchased from authorized dealers of Poison Products. Poison shafts designed for Uni-Loc® and Radial® joints are only warranted when coupled with a Genuine Uni-Loc® Pin.
2. Limitation on Obligations. The obligations of Poison Products hereunder are limited to repair or replacement of any product found to be defective under this Limited Warranty. In no event shall Poison Products be liable for any indirect, incidental or consequential damages, of any nature or kind or for damages to or loss of property. THIS LIMITED WARRANTY IS THE SOLE WARRANTY OF POISON PRODUCTS AND IS GIVEN IN LIEU OF ALL OTHER WARRANTIES, EXPRESS OR IMPLIED, INCLUDING ANY IMPLIED WARRANTIES OF MERCHANTABILITY AND FITNESS FOR PURPOSE.
3. No Other Warranties. This Limited Warranty, as set forth herein, constitutes the entire warranty and representation of Poison Products with regard to its cues and shafts. This Limited Warranty shall be controlling over any conflicting terms and conditions of any purchase orders, contracts or invoices which may be executed in connection with the purchase of the product. No representation or warranty made by Poison Products employee, dealer or agent shall be binding upon Poison Products other than as set forth herein.
4. Claim Procedures. Claims for warranty performance and service shall be made by sending the product, shipping and insurance prepaid by the purchaser, to Poison Products, 11764 Marco Beach Drive, Jacksonville, FL 32224-7684, together with
(a) evidence of original purchase;
(b) a description of the asserted defect; and
(c) the name; address and phone number of the original purchaser to whom the product is to be returned.
For International customers, if the Poison Products product was purchased through a domestic Authorized Dealer, the dealer will be responsible for returning the product to Poison for service. If a Poison Products product was purchased through a non-domestic dealer, then the customer is responsible for sending the product directly to Poison Products for service. Poison Products will review the description of the asserted defect, examine the product and make service, repairs and replacements as appropriate under this Limited Warranty. Upon completion of the service, the product shall be returned by Poison Products to the original purchaser, shipping and insurance to be paid by Poison Products. If it is determined that the asserted defect is not covered under the Limited Warranty, the original purchaser will be contacted and offered a repair service if applicable, or the product will be returned.
5. Legal Remedies. Depending upon the state in which you reside, you may have additional remedies available under the applicable Commercial Code or Consumer Warranty laws.