Ten Tips for Buying an Air Hockey Table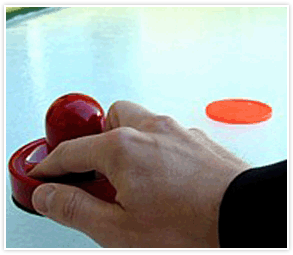 Air hockey is a popular edition to any game room. Air hockey is one of the world's fastest paced table games, it offers lasting play value, and it presents an exciting and fun way to get exercise. Best of all, players of all ages can enjoy air hockey, and two or four players can play. Modern tables look great and have fun features like electronic scoring, timers and sound effects.
Air hockey tables are constructed to accommodate different styles and intensities of play. Also keep in mind that as players develop their skills and as the kids grow older, it is possible that they can outgrow basic or toy style air hockey tables. F.G. Bradley's offers a wide range of air hockey tables in 7, 7 ½ and 8 foot sizes from mid range to commercial style tables. These are tables that will last, allow adults to play aggressively and let children develop their skills and get many years of fun out of the table.
The area of an air hockey table that receives the most abuse are the "rink walls" or side rails. Stay away from tables with thin laminated aluminum side rails. Look for solid aluminum or thick nylon rink walls for lively rebound and durability.


One of the next most important elements to look at is how the table is supported. Look for an air hockey table that is supported by a sturdy base and legs for a table that will last. Steel legs or wood laminate legs are best. Give the table a push and be sure it's solid.


Look for an air hockey table that has leg levelers so you can level the surface for consistent play.


The motor that powers an air hockey table should be a high output UL approved motor that will provide smooth consistent airflow while running quietly. Some air hockey tables even have two motors. This is not necessary if the table has a large enough motor and most importantly a Plenum chamber. A plenum chamber is a cavity found between the blower and the air distribution system in the playing surface. Air pressure builds up inside the plenum so that it will distribute across the entire play surface evenly.


Electronic scoring systems make playing at home more like playing in an arcade. Look for scorers that use infrared sensor in the goal to sense the puck dropping into the goal; they are more reliable than mechanical puck sensors.


Look for electric score units that plug-in rather than take batteries. Some take batteries but also come with an adapter. This will save you money on replacement batteries.


Air hockey tables with official style rink markings on the play surface offer the most realistic game-play.


Goal-in-rail style tables are generally more durable because they do not utilize plastic goals which can break. This goal back design also means younger children can reach the play surface.


All air hockey tables require assembly. Be sure you aware of the extent of assembly before you buy. Some tables assemble fairly easily and only require you to bolt on the legs, where as some, especially "deep cabinet" tables require a little more elaborate assembly. All tables sold at F.G. Bradley's come with complete instructions to make assembly as easy as possible. We also offer delivery and assembly services within Greater Toronto and the surrounding area.


All the air hockey tables we sell come with at least two pushers and two pucks. Extra pushers for team play are available as well as replacement pucks. Ergonomic style pushers are a great add-on because they have more comfortable hand grips that protect the fingers.