Table Tennis Buying Guide / Ping Pong Buying Guide
Table tennis or Ping Pong originated in England in the 1880s as an after-dinner amusement for upper-class Victorians. A line of books was used as a net, a rounded top of a champagne cork or knot of string as a ball, and a cigar box lid as a paddle.
Table tennis evolved into the modern game that is extremely popular all over the world. The game is controlled by the International Table Tennis Federation (ITTF), founded in 1926. Since 1988, table tennis has been an Olympic sport which includes four events: men's singles, women's singles, men's teams, and women's teams.
The game is played on a 9 ft × 5 ft × 30 inches high playing surface. The International Table Tennis Federation requires an area not less than 14 m long, 7 m wide and 5 m high for competitions. The great thing about this sport is that it easily fits in most homes.
Table tennis is a sport suitable for indoor or outdoor play, its great exercise, improves hand/eye coordination and can be enjoyed by all ages. F.G. Bradley's carries medium to high end and commercial tables that are durable and will last many years. Here are some features to look for when buying a table tennis table:
Play Surface: The first thing to look for in a table tennis table is the thickness of the top. Tops will range in thickness from ½" to 1". The playing surface should be at least 3/4 inches or 19mm thick. Anything of lesser thickness will warp too easily and not give consistent ball bounce. Most table tennis tops are constructed from particle board. Some particle boards are better than others. Look for a medium density board which offers a higher percentage of resin in the board giving better warp resistance and bounce. A ball dropped from 30cm should bounce to 21cm. How the table is finished is important also. Better tables have a numbers of layers of finish to enhance bounce and resist fading. Screened on lines are preferable to a tape line because they are smooth and do not interfere with the bounce of the ball.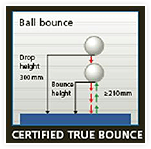 Wood or Aluminum Play Surfaces: The majority of ping pong tables sold have a wooden play surface. This is great for most uses but is not recommended for outdoor use, excessive humidity, moisture, or temperature extremes. Weatherproof aluminum play surfaces have become very popular. These types of tops incorporate a wood core sealed inside an aluminum shell. This makes them completely weather proof and allows for outdoor use. These tops are engineered to resist warping as well.
Indoor Playing Surface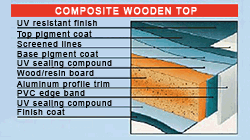 Weatherproof Playing Surface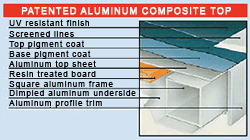 Frame, Chassis or Under-Carriage: The frame under the play surface is critical to the durability of a table. Cheap tables utilize this aluminum or galvanized tubing. These low end type tables will become shaky over time and can even collapse. Better tables incorporate heavy steel tubing and a solid centre transport frame. The best tables utilize oval or square tube legs for the ultimate in strength and stability. The number of cross beams used and connection points to the play surface also effects the solidness of the table.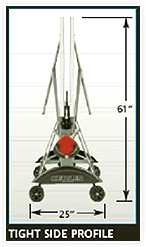 Fold and Store: Look for a table that folds up and stores compactly. Tables where the play surfaces "retract" into the central transport frame are more compact to store and safer when folded because they are not as tippy. Big or multiple wheels will make for a better support for the table and will make it easier to move. Wheels with locks allow one person to fold up the table without it rolling away.
True Playback feature: Most tables allow you to fold up one side of the table into the storage position and use it as a bounce back surface for solo play. Some tables have a wide gap between the folded up side and the net when folded up for playback. This does not allow for realistic playback because you have to hit the ball harder so it does not fall between the folded up surface and the net. Better tables fold up so there is no (or very little) gap between the vertical play surface and the net for realistic solo play. True playback is great for practice and warm-up.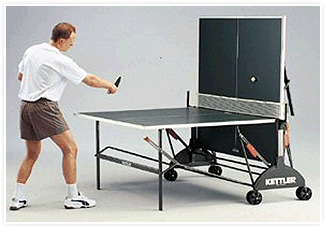 Locking Mechanisms: Kettler tables are unique in that they incorporate a locking system. This will prevent accidental opening or closing of the table because when the table is folded up the play surfaces lock into position. This means they cannot fall and injure someone and little fingers will not get caught in the seam between surfaces.
Net and Post Systems: Quality table tennis tables come with a net system. Better tables incorporate an integrated post system attached to the frame of the table so the net is always deployed whether folded or not so you are ready to play at a moments notice. Check that there is a means of adjusting the net so you can keep it tight.
Assembly: Most table tennis tables require some amount of assembly. Be sure to check into what is involved. All tables from F.G. Bradley's include easy to follow instructions and most come with the tools you need to set them up. Inquire about delivery and setup services in Toronto and surrounding area.

We highly recommend Kettler Table Tennis Tables:
Since 1949, the company has grown from a small enterprise in Heinz Kettler's home town in Germany into a world-wide manufacturing organization, selling in 60 countries and employing 3000 people. Heinz Kettler has always remained true to the "made in Germany" quality principle and it is still the central pillar of the company's management philosophy. Ask any German to name a well-known manufacturer of quality sports equipment and you will more than likely hear name Kettler. Germany is an excellent manufacturing base for ping pong because it has the world's largest professional table tennis league. Germany has a table tennis league that has over 800,000 participants. Germany as a result has manufacturing capability that allows it to produce the world's finest table tennis tables. These tables will provide years of good service and for the level of quality represent extremely good value for money. Kettler tables also incorporate some great safety mechanisms into their tables and 2 to 3 warranties making them second to none. We are very pleased, therefore, to recommend the full Kettler range to anyone considering buying a table tennis table.
Click here to see our full line of Table Tennis tables online.