Bar Stool / Kitchen Counter Stool Buying Guide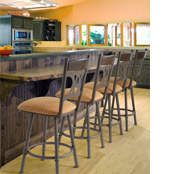 The right height for pool table lights
Bar stools are available in many different styles, materials, finishes, fabrics, sizes, shapes, and prices. F.G.Bradley's carries thousands of different variations so choosing can be confusing. This guide is designed to help you decide which stool is right for you and your surroundings.
If you have any questions please feel free to call our Customer Service line or e-mail us and we will be glad to assist you.
The first step in choosing a stool is determining the size or height of stool you need. Most stools come in two common sizes: 30 inch and 24 inch. This measurement is taken from the floor to the top of the seat. The 30 inch stool is commonly referred to as a "bar stool" and the 24 inch is a "counter stool". Some manufacturers also make a taller size for higher bars or free-standing applications. These are commonly called "spectator stools".

The actual size can vary somewhat with bar stools ranging from 29 to 31 inches and the counter stools ranging from 24 to 26 inches. These are the "standard" sizes of stools, but they can be special ordered in sizes from 24 inches to 37 inches tall. Companies such as Holsag Canada and Trica will custom make bar stools in the size of your choice.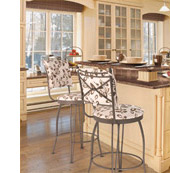 How to Choose the Height of a Bar Stool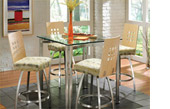 Measure the height of your bar, counter or table as this measurement will determine the proper bar stool height. Once you know your counter or table height, simply match this with the appropriate diagram below to find the correct bar stool size you need. That's all there is to it!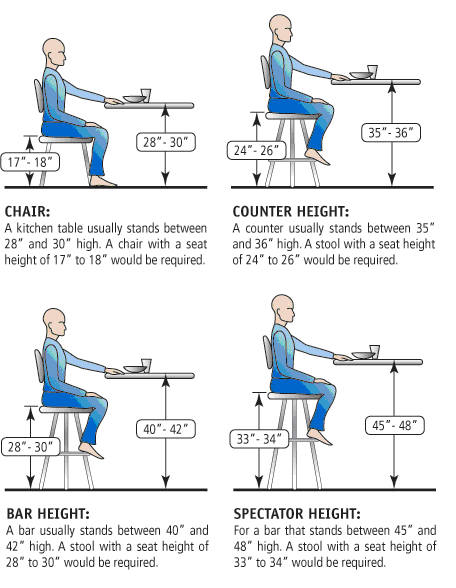 How many bar stools do I need?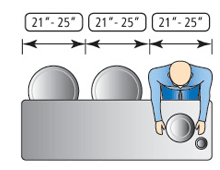 Figuring out the right number of bar stools for your counter or pub table is easy. Follow the industry standard, which is to allow 21-25 inches between the centers of each bar stool. This measurement is taken from the center of the stool. Leave about 14 inches from the wall or edge of your bar or table to the first stool. This will provide adequate spacing for people to sit comfortably and enter or exit the seating easily. Allow a little more space for stools with arm rests or stools that swivel.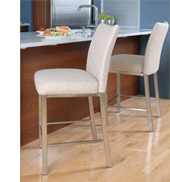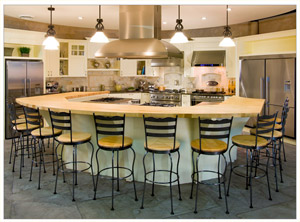 Not only can a bar stool be a great place to sit, they can add to the décor of your room as well! As stools are always a handy spot to grab a casual seat they tend to get a lot of use. Therefore, it's good to know what you are buying so you can make sure you are getting the finest you can afford. When choosing your bar stools make your selection carefully. A good quality bar stool is well worth the price, cheaper bar stools might actually be more costly in the long run because you may need to replace them more often.